Free, no-obligations survey
3d modelling shows you how installation will look

Game-changing technology
Forecasting power generation & savings

Award-winning renewable products
Handpicked for quality and performance

Quick installation from expert technicians
We guide you through the planning process
Solar power isn't the only route if you want to create renewable energy in your home – reducing your bills and your carbon footprint. Clean and green, the wind is a limitless natural resource. And you don't need strong winds to produce enough energy to power your home.
After an extensive search, we've partnered with Korean experts Hi-Energy to bring you market-leading vertical axis wind turbines. Unlike propeller turbines, they're designed for climates with mild winds and frequent changes in wind direction – making them a perfect fit for French homes.
How much energy will your turbines generate?
Unsure whether to opt for wind or solar power? Wondering how much energy you'll be able to generate – and when you'll receive a return on your investment? Our team of renewable energy experts will go through all your options are part of the quoting and survey process, using advanced software to demonstrate exactly how much energy you'll generate, how much you'll save on bills and when you'll receive a return on your investment.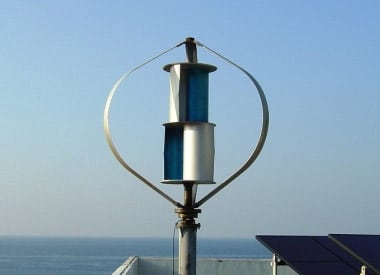 Get in touch with a member our expert team of renewable energy specialists for your free, no obligations survey
Using the latest technology and 3d modelling, we'll show you exactly how your installation will look and how much you'll save

Efficient
Acceleration through sweep back angle generates more energy under same wind

Effective
Blades with same structure as aeroplane wings allow more energy generation under same wind speed

Innovative
World's only turbines to utilise the benefits of lift and drag – continuing to work even when there's no load

Quiet
Noise is minimised as there's no gear and coil
Want to find out more about the panels?
Click below for further information about Q CELLS and Sunport solar panels.
Have a question about renewable energy? Want to know more about how installing a system at your home or business could cut your costs, reduce your environmental impact and put you in control of your energy future? Our team of renewable energy experts would love to help.