Free, no-obligations survey
3d modelling shows you how installation will look

Game-changing technology
Forecasting power generation & savings

Award-winning renewable products
Handpicked for quality and performance

Quick installation from expert technicians
We guide you through the planning process
Maximise the benefits of going solar
Are you thinking about going solar? Perhaps you're looking for ways to optimize return on your
solar panels?
Maybe you're fed up of spending a fortune on heating your pool, and you're searching for a cost-effective alternative that's not harmful to the planet?
Whatever stage you're at on your renewable journey, our hot water solutions are finetuned to help you optimize solar energy production.
Heat your water using solar power
Copper Industries are the UK and Ireland's largest independent suppliers and manufacturers of hot water cylinders, calorifiers and buffer tanks. As with all our renewable energy partners, we've chosen them for their commitment to quality.
The SolarPod cylinder performs perfectly with solar energy to heat water in your home, while the Hot Water Generator is customised to heat your pool. We'll recommend other Copper Industries' products on a case-by-case basis.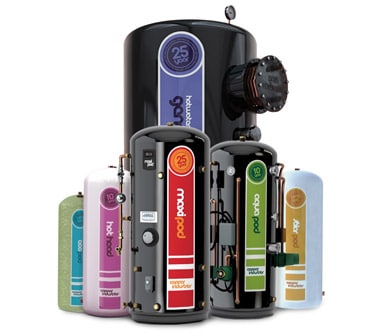 Get in touch with a member our expert team of renewable energy specialists for your free, no obligations survey
Using the latest technology and 3d modelling, we'll show you exactly how your installation will look and how much you'll save

Effective
30% of the payback from a solar panel system comes directly from your hot water cylinder

Efficient
Made with either double or triple coils, the SolarPod aligns with your hot water system

Bespoke
We'll build you a fast, effective and safe heating solution tailored to your home or pool

Durable
Manufactured out of grade 2 copper, the products have between 10 and 25-year warranty
Want to find out more about the panels?
Click below for further information about Q CELLS and Sunport solar panels.
Have a question about renewable energy? Want to know more about how installing a system at your home or business could cut your costs, reduce your environmental impact and put you in control of your energy future? Our team of renewable energy experts would love to help.